Chile en una Caja is a company that offers original, creative corporative presents, that allow you to experience the feeling of getting a little piece of Chile through a gift.
Our corporative gifts have been designed as an alternative for businesses that want to give a special souvenir to their foreign guests, their clients o just those who want to show appreciation to their staff.
We offer personalized presents for special occasions (Women's Day, Mother's Day, Father's Day, Secretaries' Day, Independence Day, Christmas), conventions, workshops, seminars, foreign visits, company anniversary, etc.
Our boxes try to capture the essence of Chile through flavors, images, handcrafts, designs among other things. They are personalized with the business logo and include a greeting card.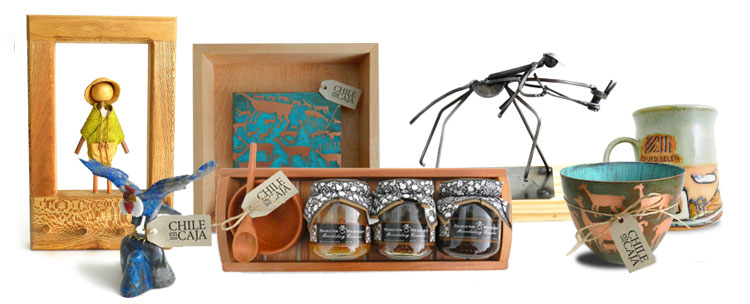 Through their corporative gifts Chile en una Caja empowers the work of hundreds of artisans from different parts of our country, who are keeping the culture and traditions of every single corner of our country alive, through their work.
This company is based on inclusivity, because we work directly with artisans, small business owners, artists and people with disabilities from different places in Chile. This includes our providers for the boxes, who are also artisans from isolated areas in the south of our country.
We also work with small business owners in the gourmet food industry, and people with disabilities who work in production. This way we are helping facilitate labour inclusion.
Currently many companies have accepted this social commitment and have taken a chance with this original alternative. This way they are directly contributing to the development of all the people mentioned above.